Mätorit Data AB
Computer software for stockpile
Looking for software to manage and increase your sales of spare parts online. You've found it! The software is called Bildem (Short in Swedish for Car Dismantling) developed by the Swedish Company Mätorit Data AB. If you have an auto salvage company, dismantler, car scrap, accessories business, workshop, refurbishing company or any kind of parts retailer than the Bildem program is for you. Your locally updated parts inventory are automatically updated on the internet. Try it for free?
Offers from Mätorit Data
Borrow Bildem software for free in 1 months!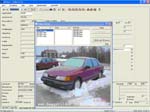 Now you have the opportunity to freely borrow a Bildem in a month. The program you are borrowing has all the features needed to store the parts and show them in different ruling databases on the Internet.
You may have started many functions simultaneously in Bildem. Here's a selection of different features found in Bildem.. Sales - Vehicle register - Owner - Stock Register used parts - Stock Register new parts - Ordering Register - Inventory Function - Stock Statistics - Price Index - Imaging - Sales Statistics - Reservation - External integrated price - Accounting Basis-Accounts Receivable - Sync module storage - Automatic transfer to the Internet of stored parts / images. With Bildem software your company has full control of the business, ranging from simple order to follow-up results of each individual car, part, customer or user.


Expressions of interest!